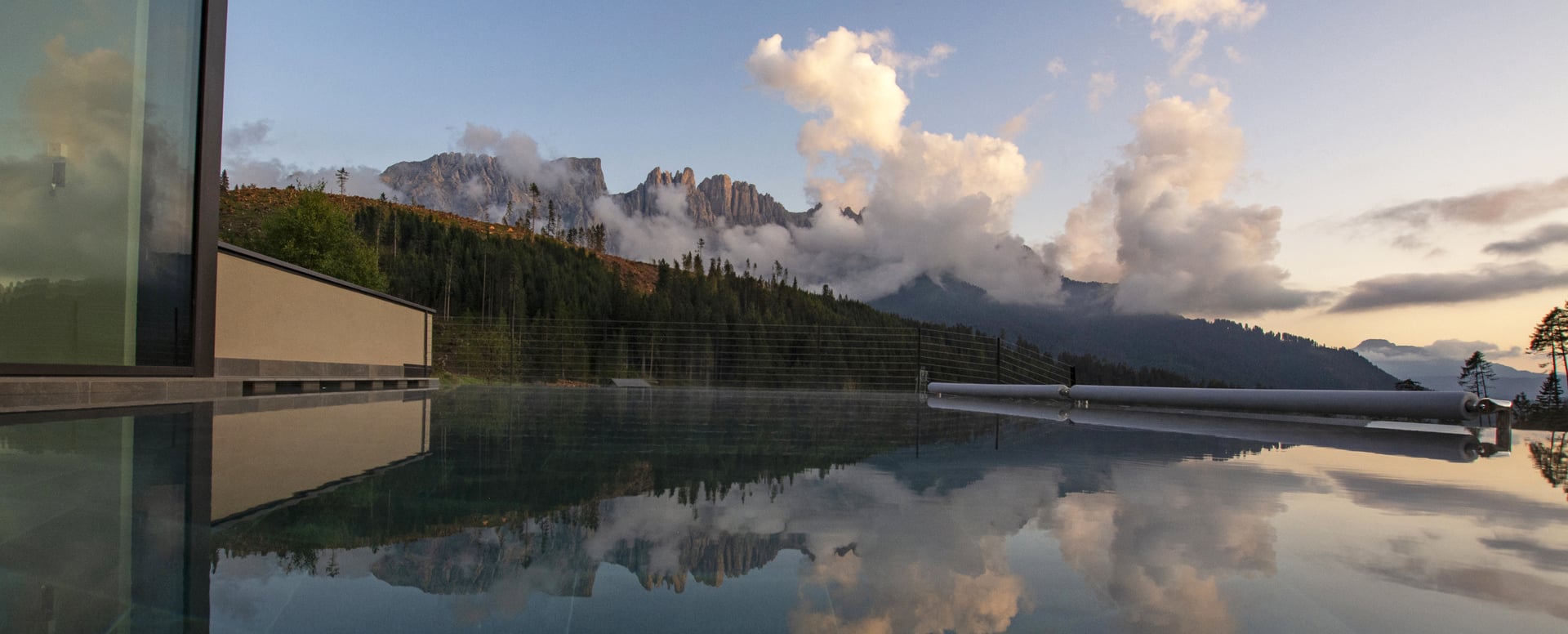 Sensual experience
In the wellness hotel in the Dolomites
Enrosadira Sky Pool (adults only) outdoor pool with an amazing view of the Dolomites and indoor family pool
Sauna landscape with organic Swiss pine room, panorama sauna, brine steam bath with salt peeling, Latemar event sauna
Massages, baths, bio-energetic treatments and private spa
Spacious sundowner lounge rest areas with fireplace and tea lounge
Rooms & suites
WELLNESS HOTEL IN THE DOLOMITES: PEACE FOR THE SOUL
Your mind is freed. And every cell in your body revitalised.
In the midst of a magical natural setting, at the foot of the Catinaccio near Lago di Carezza in the Val d'Ega, aficionados of physical and mental well-being will find a real world of the senses. If you are looking for the perfect spot to relax after an eventful day, then our wellness hotel in the Dolomites is the place to be.

At the foot of the world-famous mountains, the new Dolomiti Mountain SPA (adults only) awaits: four different saunas, Enrosadira Sky Pool and enchanting panoramic views. Swim towards the mighty peaks, sweat in the healthy aroma of Swiss pine, treat yourself to time for two in the private spa or indulge in some pampering in the beauty area. You will feel like a whole new person!
We welcome families in the Family SPA with 32° indoor swimming pool and Dress-on Family Sauna. There is enough space for you and your nearest and dearest to relax in peace.

Your Non-binding request for a unforgettable holiday at Carezza