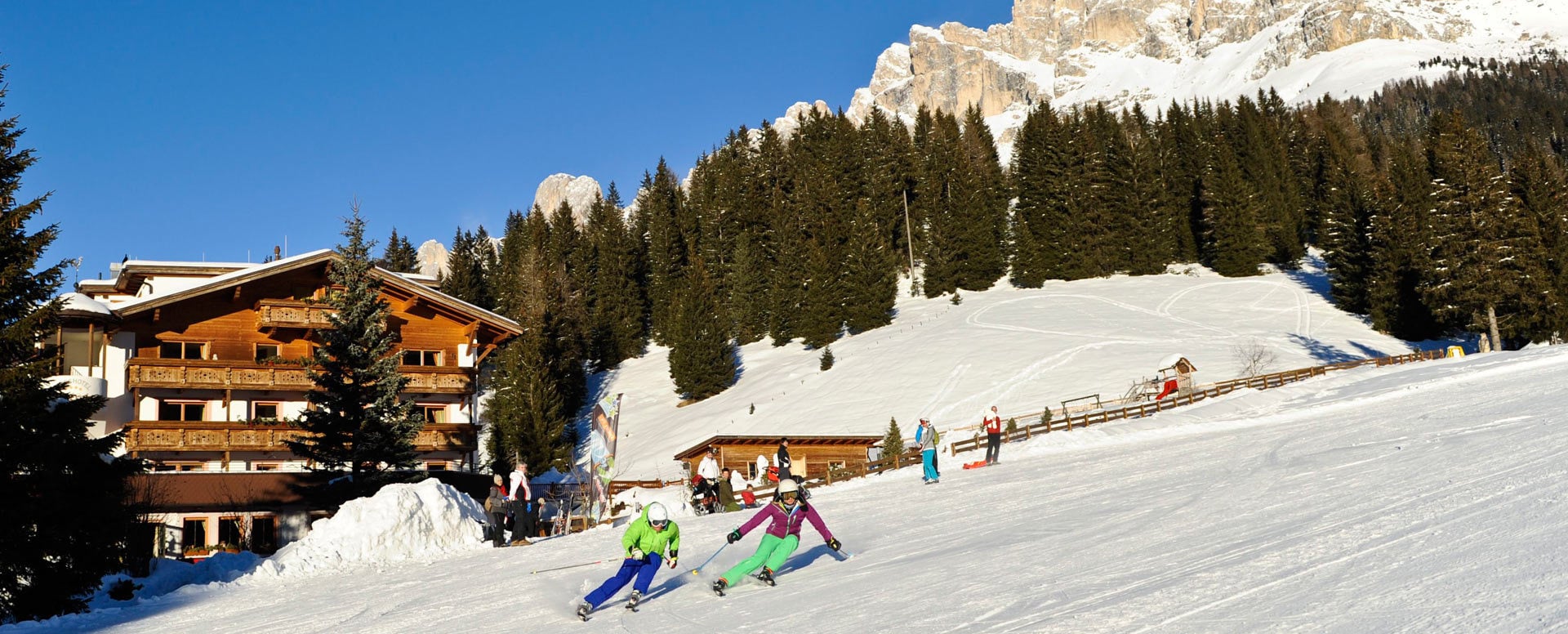 Winter happiness
skiing holiday in the Dolomites
Ski-in Ski-out Hotel
Carezza Skiing Area: 41 km of perfectly groomed slopes
15 modern ski lifts
Right at the foot of the Rosengarten and Latemar mountains
Ski pass service: your ski pass at our Reception desk
Ski instructors at the hotel
Rooms & suites
Pleasure on the slopes on a skiing holiday in the Dolomites
Cosseted by the sun. Striking awe into human beings.
Anyone, who stands before the majestic backdrop of the Rosengarten and Latemar mountains, will be fascinated, especially when the setting sun bathes the mountains in mystical red light. A spectacular display, which enchants you every time you see it.

Hotel Moseralm is located right beside the slopes of the sunniest skiing area in South Tyrol: the Carezza Skiing Arena. On your holiday with us you will almost be able to roll out of bed on to the ski slopes. In addition you will not only enjoy the breath-taking view each day, you will also be impressed by the variety of slopes to be discovered. Irrespective of whether you are an experienced downhill skier, a leisurely carver or a diffident beginner, on the more than 41 km of slopes with 15 lifts your skiing holiday will become an unforgettable adventure.

The Carezza ski resort at the foot of Rosengarten Mountain has recently added 2 new attractions, which will be of special interest to families: the Family Fun Lines and King Laurins Sagenparcours, a snow park, which is especially designed for the needs of children and freestyle beginners. Here your little ones can be bold and take their first steps into the world of freestyle skiing.

As an enthusiastic skiing family, with 3 ski racers in the family, we have a whole host of tips to give you about this popular sport.


Your Non-binding request for a unforgettable holiday at Carezza